Case Study
Morocco
Domestic city and regional rebrand and supporting destination content.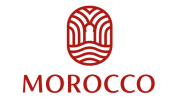 My Role and Responsibilities
CCO & Creative Lead

Creative Direction
Design Direction
Production Oversight
Date: 2022
Agency: Beautiful Destinations
Brief
Rebrand Morocco at the city level bringing a cosistent brand refresh across their entire domestic branding. Whilst bringing it to life within hero destination films, photography and social content.
Challenge
Morocco is known for 2 or 3 classic locations; Marakesh, Casablanca, Tangiers etc but there an extremely diverse landscape of opportuities within Morocco and that needs to be elevated in brand identity and awareness for the country in it's plans to boost tourism after covid.
Idea
We wanted to create a range of unique and exciting short films that bring each city to life, underpinned by carefully captured vertical video for social distribution and a library of beautiful photography content to help future campaigns and marketing. We also wanted to bring each city brand to life through unique branding, patterns and an identity which leans into the local beauty and design of each city whilst fitting into the nation brand.


Expression
Creative Direction, Brand Strategy, Film, Digital Content, Photography.
Result
Campaign has just launched. TBC
Hero Films for each City and Region