Case Study
Abu Dhabi
Summer Like You Mean it Campaign & Brand Refresh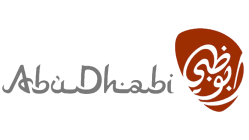 My Role and Responsibilities
CCO & Creative Lead

Creative Direction
Design Direction
Production Oversight
Date: 2021 - 2022
Agency: Beautiful Destinations
Brief
Create a summer campaign that breaks down common misconceptions and shows the world the real, authentic and unknown Abu Dhabi, whilst offering holiday makers a fresh and different kind of summer break to the sea of typical beach holiday vacations.
Challenge
Abu Dhabi is NOT a summer destination. It's hot, spread out, and very low on people's consideration list for a vacation. Reaching the doers and the relaxers and breaking down negative connotations.
Idea
'Summer, Like You Mean It' - offering the world a COMPLETELY new perspective on Abu Dhabi and the endless unknown activities it holds in store. Target (and re-target) potential holiday makers with an exciting and unexpected hero campaign and cohesive ecosystem of exciting social first campaign content in 4 key pillars of focus categorized as "Never Bored," "Uncovering Abu Dhabi," "Attainable Aspiration," and "Family Fun,"
Expression
Brand Strategy, Tagline and meaning, Film, Social First Content, Photography, Design, Tone Of Voice, Interactive digital.
Result
AD government saw an incremental 15% + rise in summer traffic and consumer spending across their key summer tourism locations compared to previous years. Over 100 Million social media impressions, over 40 million video views and tens of millions of social media and earned engagements. Outperformed owned social channels performance by over 10x the normal engagements (TikTok & Instagram)
Campaign Pillar Hero Films, All included :60 :30 :15 and :06 versions.

In 16:9, 9:16 and 4:5 formats and delivered in 7 language translations.
Luxury
Uncovering Abu Dhabi
Using Eko, We built a 'Choose your own adventure' activation on the Visit Abu Dhabi Site for viewers to interact with the campaign and decide how they would like to experience Abu Dhabi First Hand. This increased the average time spent on site by over 200% once deployed. 
We built a curated library of supporting platform specific Reels, One takers, Stories and photography. For Pre launch teasers and always on content throughout the campaign. With over 100 assets, being too many to show - Below is a selection from the campaign:
The Abu dhabi Hitlist was designed to show a seemingly endless array of amazing things you can do in Abu Dhabi - so travellers could be targeted and retargeted through social platforms and build up a better understanding of Abu Dhabi being an exciting unexpected destination:
A selection of OOH, Banner & Digital Campaign assets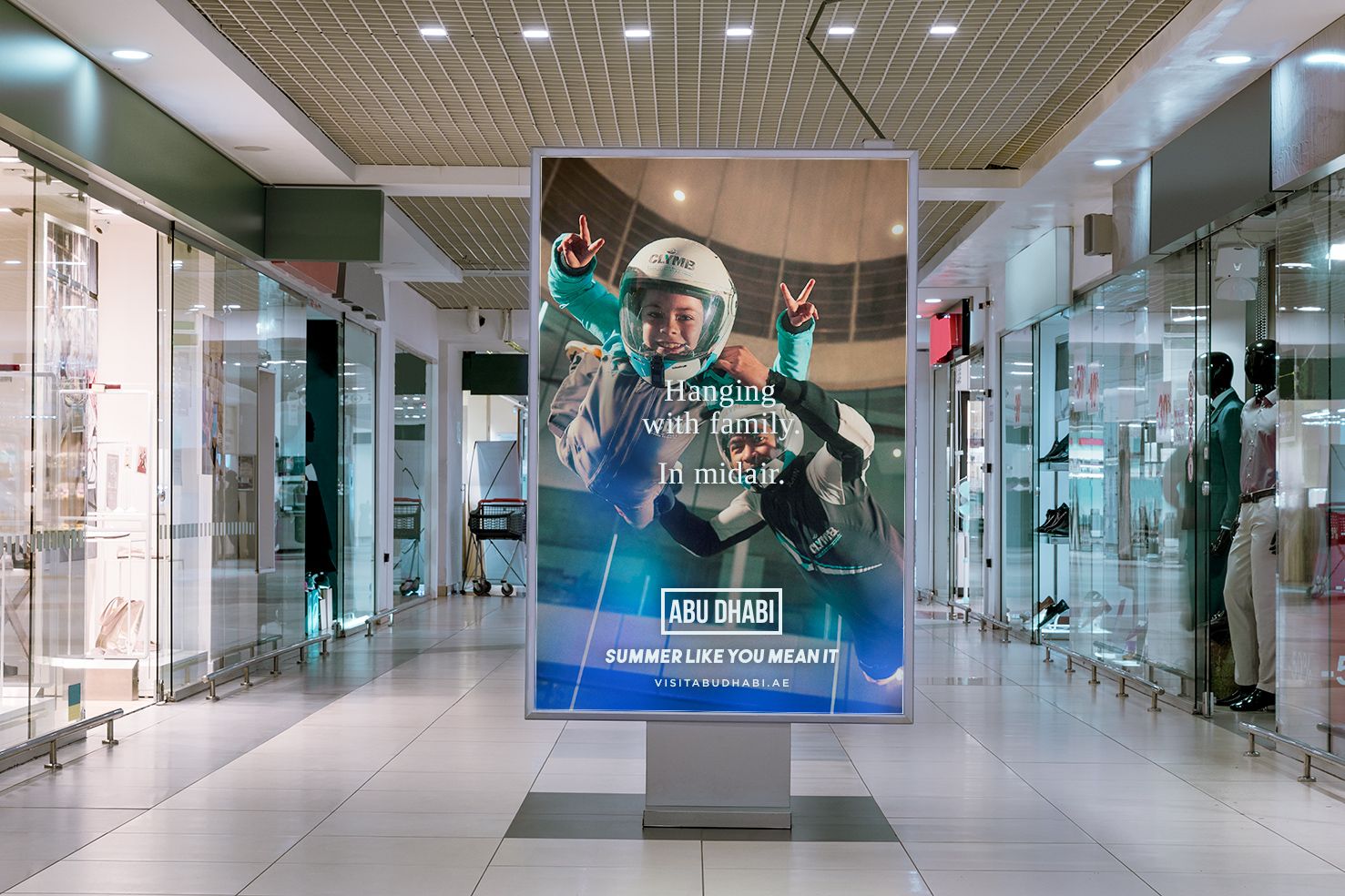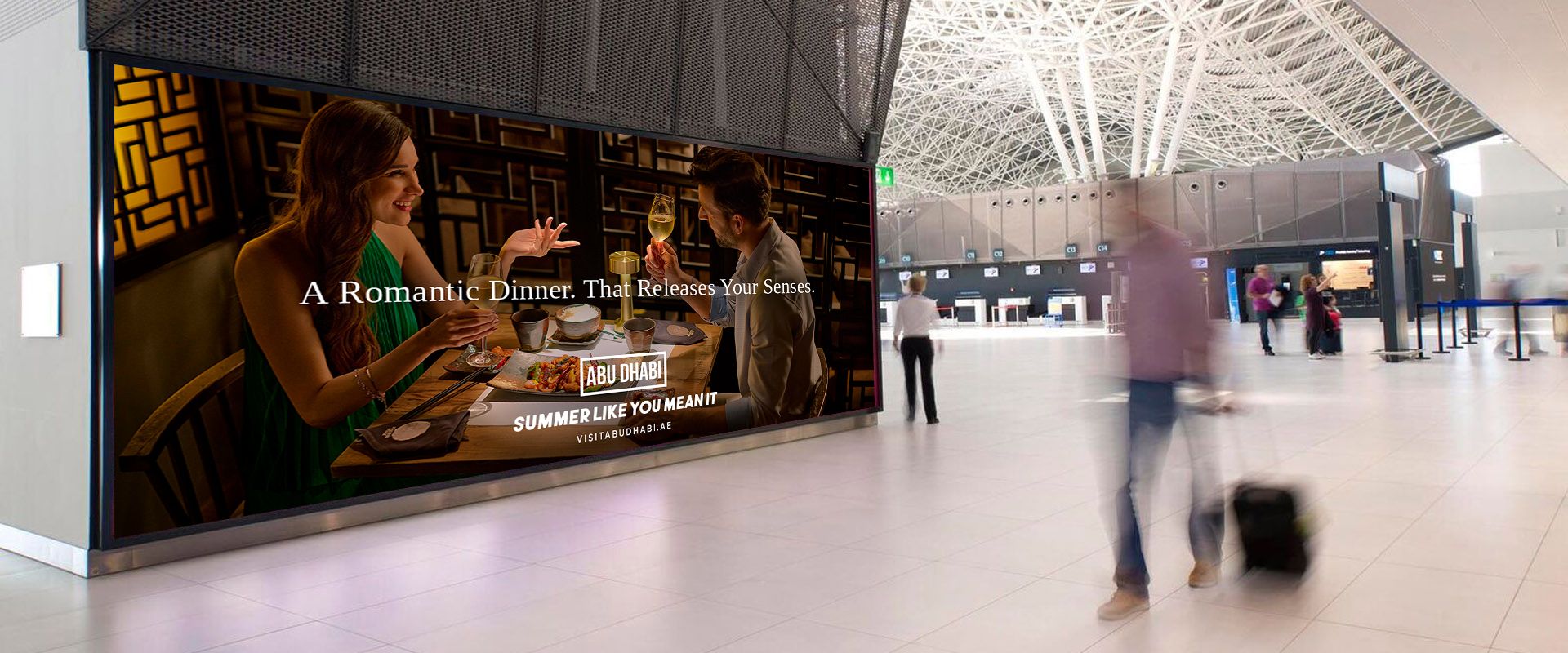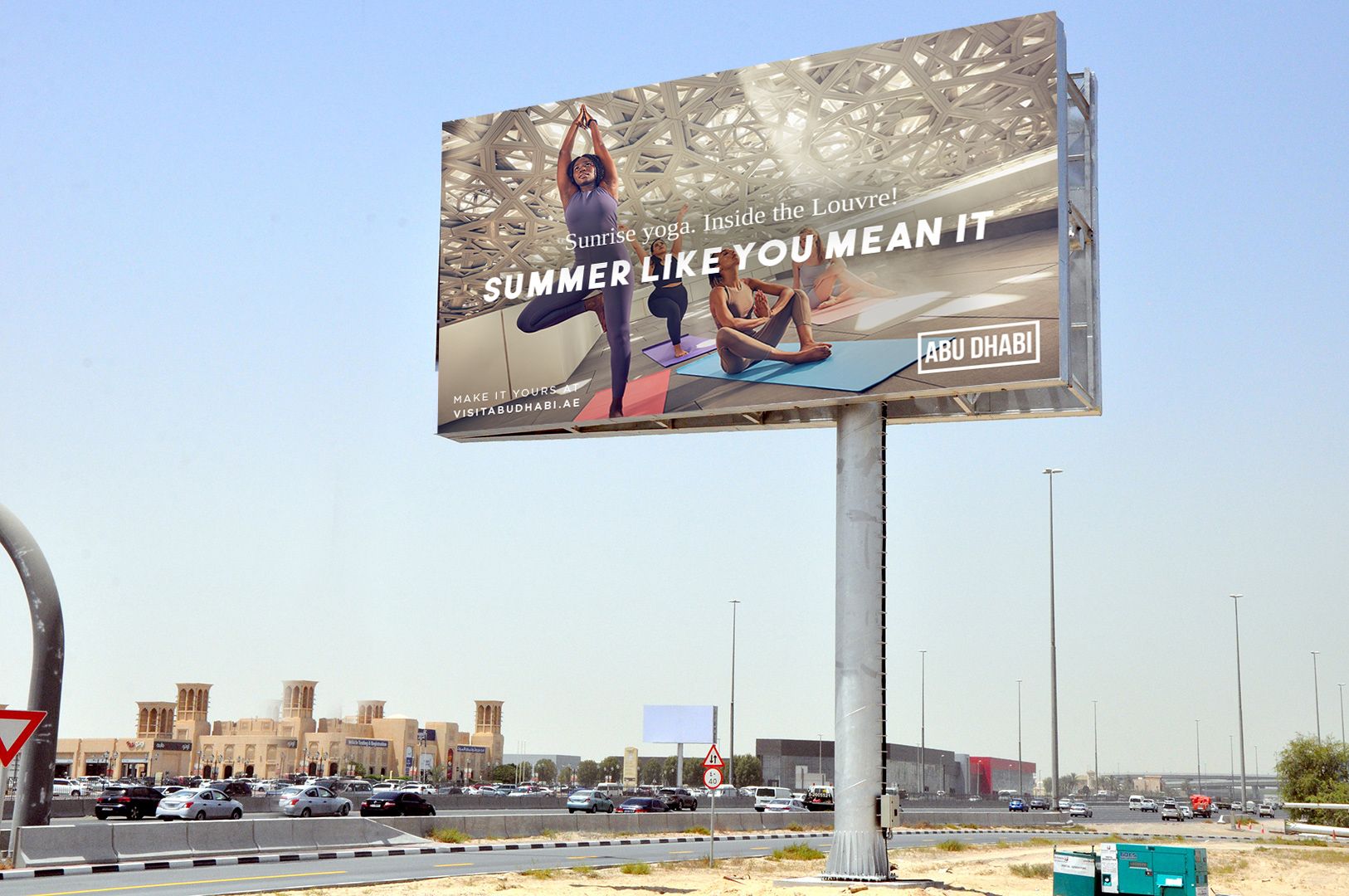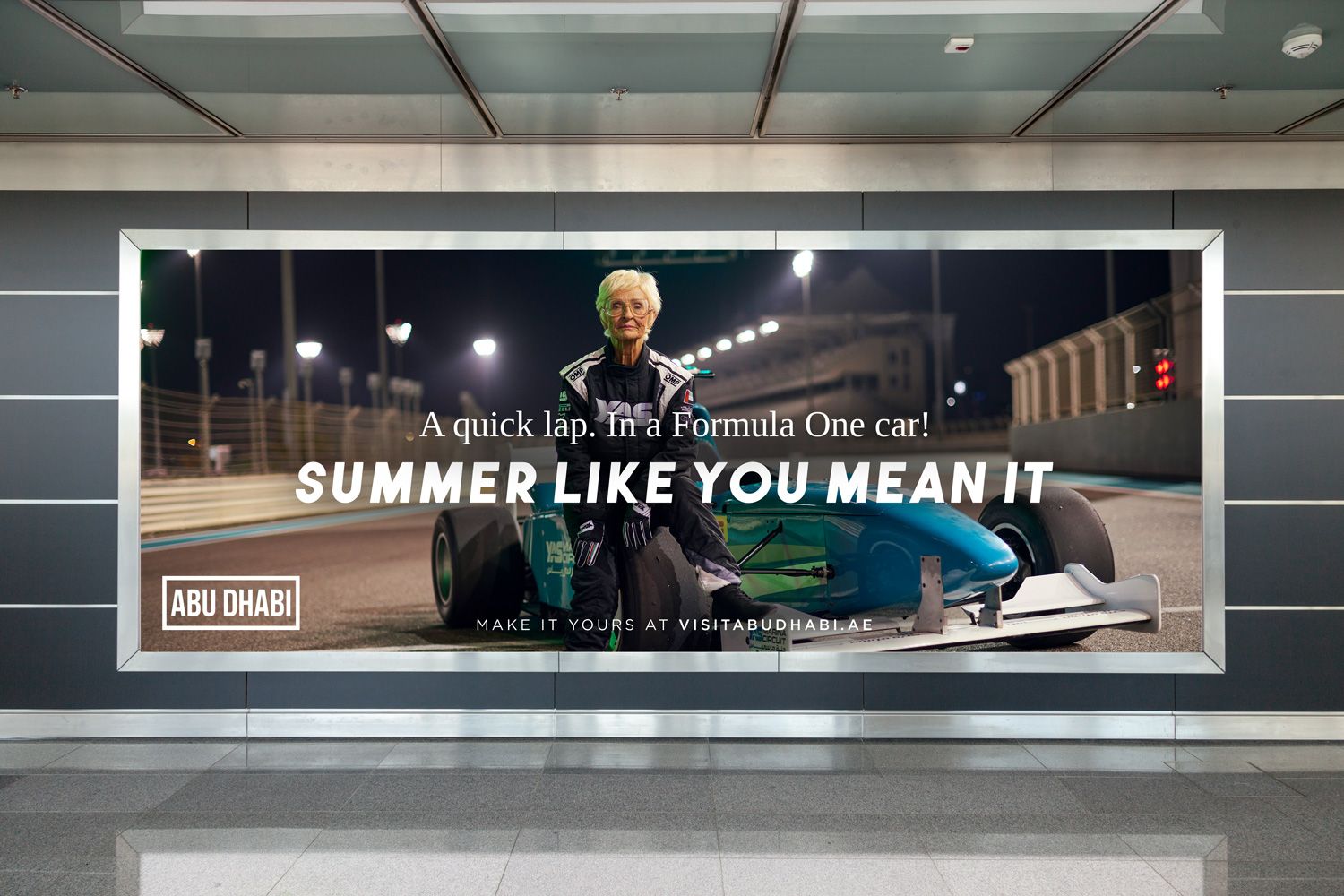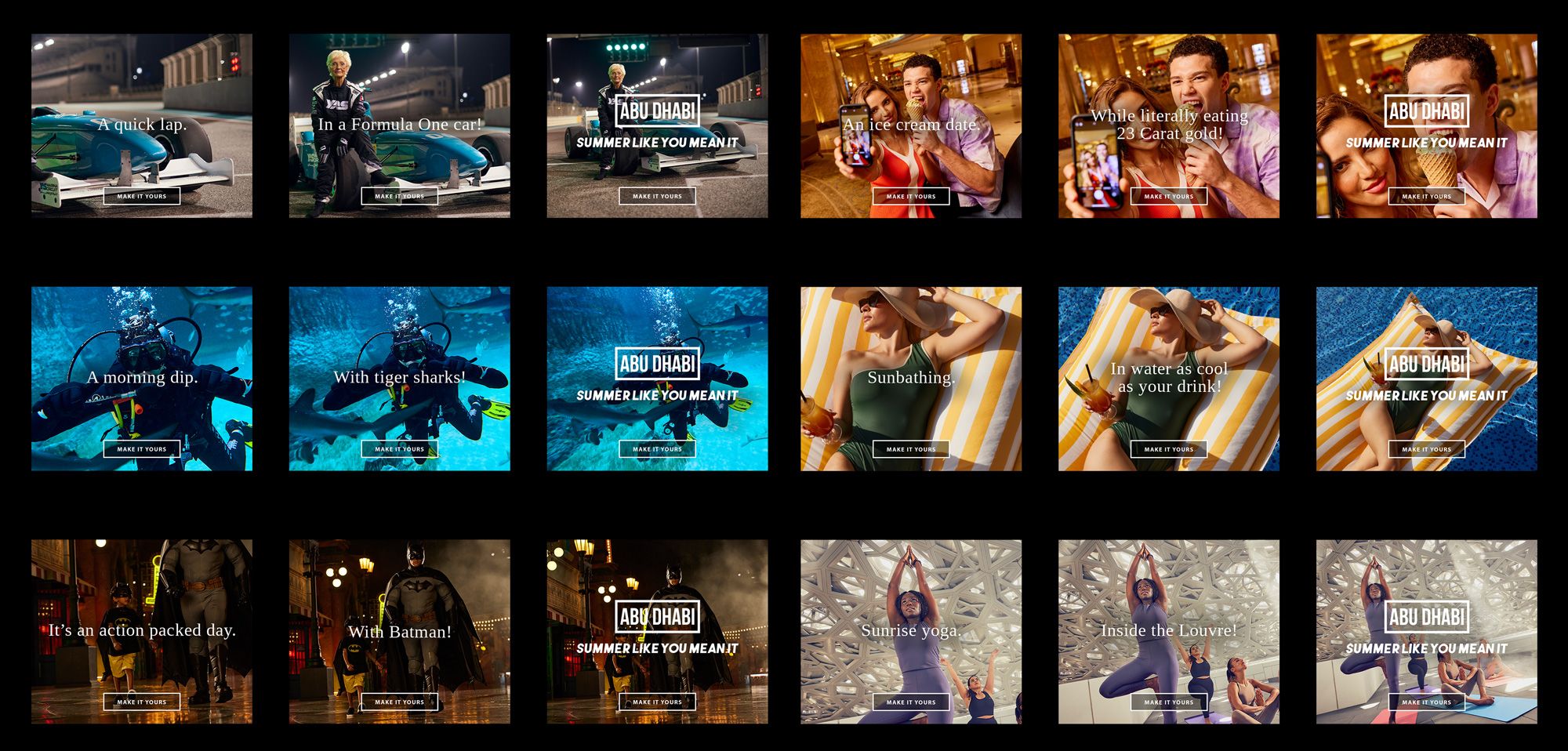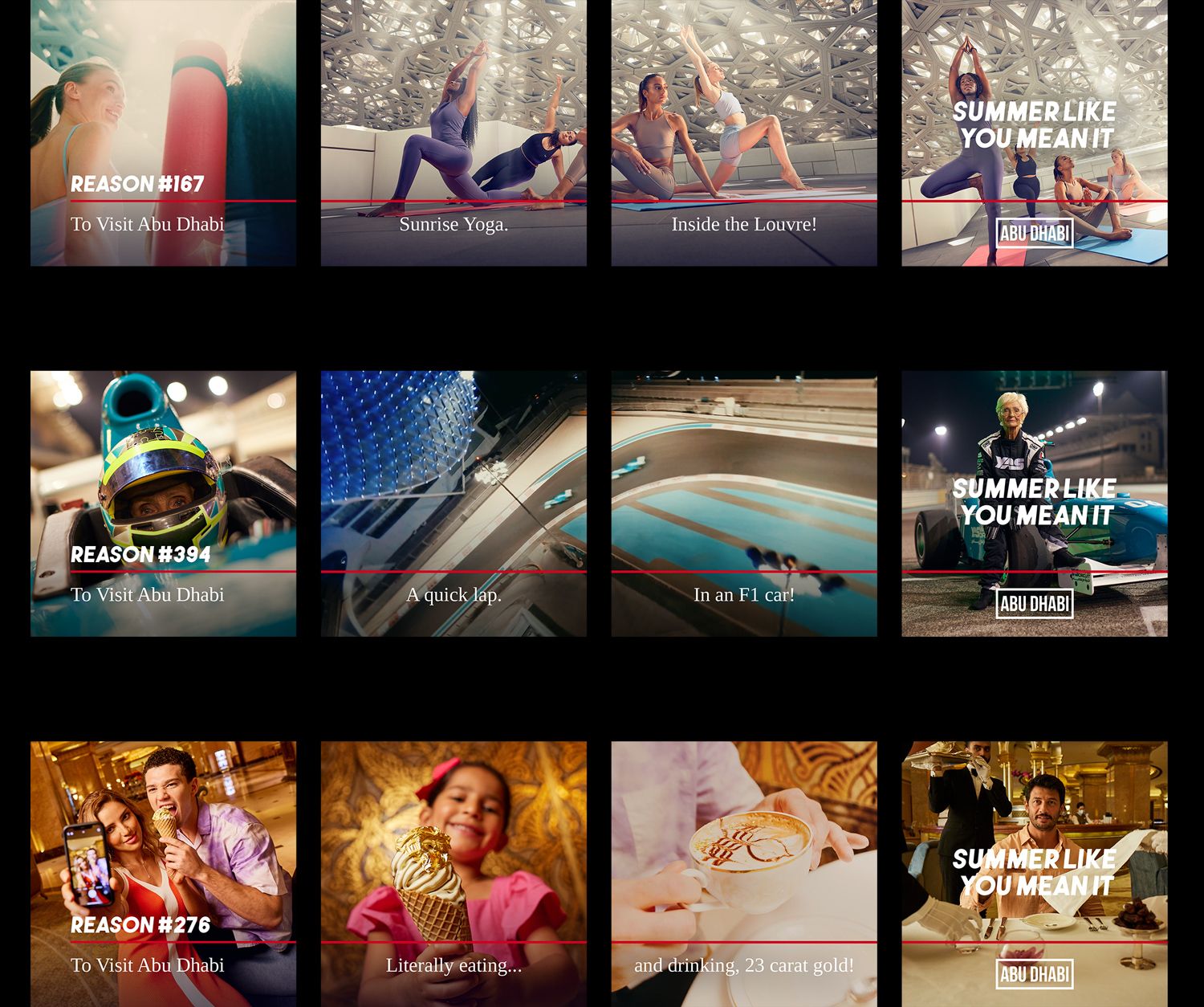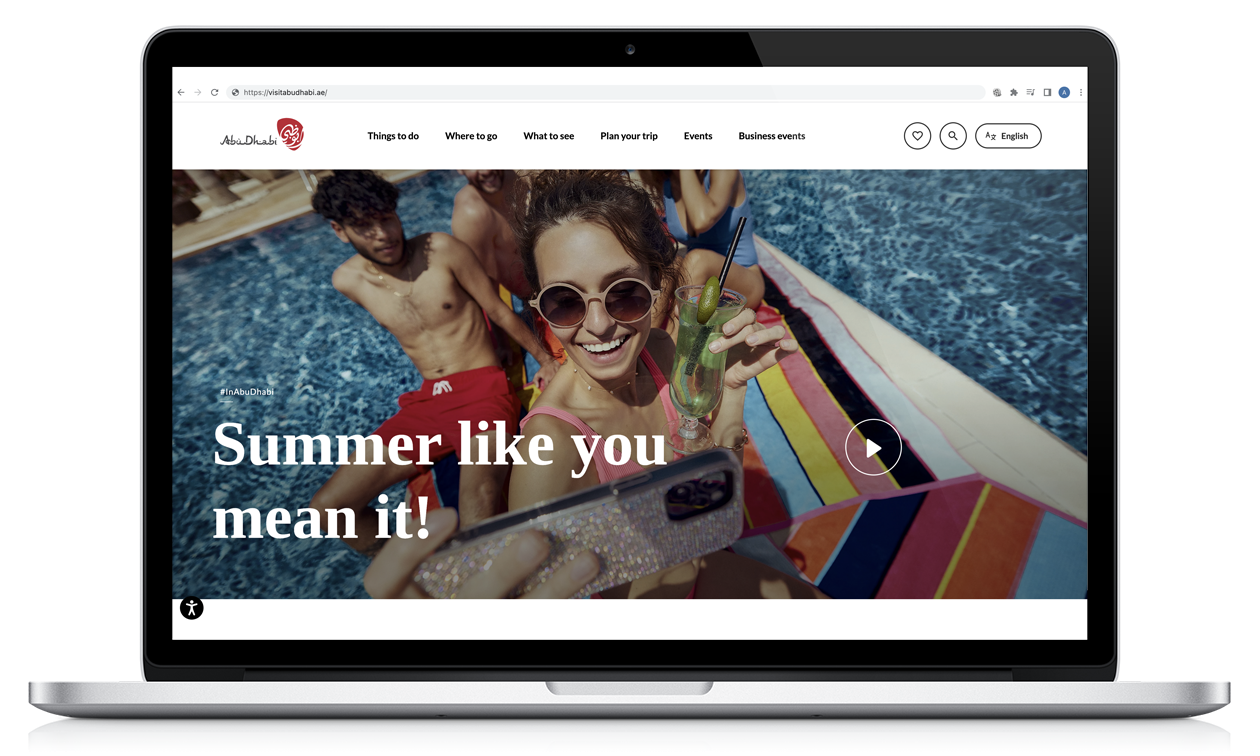 Abu Dhabi Tourism Website refresh
Winning best Stand at Arabian Travel Market
Overview
'Summer Like You Mean It' brings to life the fact that Abu Dhabi is a surprisingly more open and opportunistic location within the UAE, to seek both the excitement and high octane activity of its close neighbor and competitor Dubai - but to also enjoy the more relaxed and luxurious nature of the beaches and rejuvenative luxury hotels, restaurants and resorts. The best of both worlds.

Challenges:
Abu Dhabi is notoriously hot in the summer - so enticing people to go there as a beach destination - is not ideal. Competition from European destinations and other UAE locations is red hot. It's extremely unknown to the average traveler, and whilst there is plenty to do,  it's widely overshadowed by Dubai - where there is more flash and excitement around the destination from attractions in recent campaigns. Younger generations see Abu Dhabi as being VERY low on their list of destinations. To sell Abu Dhabi at any time of year is hard - but in summer - it's a real challenge.
Campaign:
We created a targeted campaign and ecosystem of social first content to target and re-target awareness and excitement around the 'Endless' opportunities that await the visitor in Abu Dhabi.
Needing to appeal to a cross section of audience groups; gen-z, millennial, families, staycationers, and trade travel - we needed to offer a varied view of the attractions and stigma busting realities of what a summer in Abu Dhabi ACTUALLY looks like.
'Summer Like You Mean It' focuses on creating targeted mass unique content that pinpoints different audiences through paid, earned and organic content, pushing them towards opportunities to book and make decisions on visiting Abu Dhabi. We began with deep strategy and insights work, uncovering the right demographics to target and the understanding of differentiation between Abu Dhabi and its close rivals, offering the traveler a greater choice to 'Find their space' in a refreshingly open landscape of opportunity, with 4 key pillars of focus categorized as "Never Bored," "Uncovering Abu Dhabi," "Attainable Aspiration," and "Family Fun,"

With a centerpiece TV OOH & digital awareness campaign, and building an ecosystem of meaningful content in a social first approach, driving traffic towards the campaign and the destination website through innovative interactive reels and stories - viewers are almost bombarded by exciting opportunities offering a fresh look at the 'unexpected' side of Abu Dhabi, carefully balancing the higher octane activities with the relaxed and family focused and featuring surprise moments within each scene. Featuring F1 Grannies, water as chilled as your drink, edible gold food and drink, yoga in the Louvre and the fastest rollercoasters in the world.

As an exit/Booking opportunity - we built an interactive 'Choose your own adventure' Experience into the Abu Dhabi website for travelers to choose their journey around Abu Dhabi selecting their potential itinerary through a series of choices within a film lead experiential component.

The key purpose was to surprise and delight new audiences showing an unknown side of a nation they didn't know they wanted to visit, changing perceptions of a generally misunderstood destination.
The Impact
The AD government saw an incremental 15%  rise in summer traffic and consumer spending across their key summer tourism locations compared to previous years summer season.

Between Beautiful Destinations, AD Owned Accounts and Earned media:
40+ Million Views
40% Increase in Web Traffic
50% Increase in Tickets Sold
10X Increase in owned Social Media performance 
50+ Million social media and earned engagements. 


CAMPAIGN MARKETS:  UK, Germany, France, Russia, China, USA
Campaign languages: English, French, Russian, Hebrew, Arabic, Italian, German
TARGET AUDIENCES:  GenZ & Millennials and group travel, Family, Couples and Staycationers